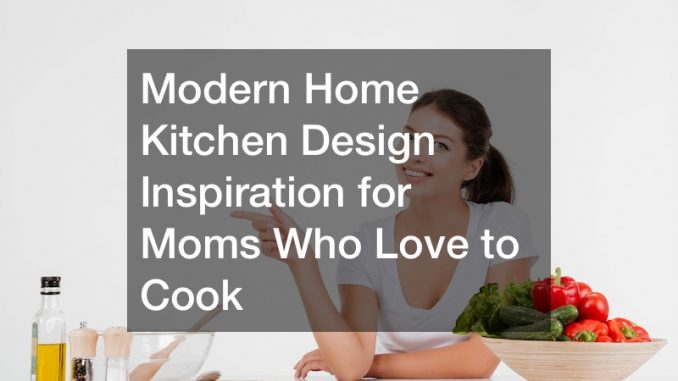 Modern home kitchen design inspiration does not only seek functionality but also serves an aesthetic sense meant to create more comfort for moms who love to cook. Besides its stylish and enticing look that appeals to our visual senses, modern kitchen designs are also easy to work from, making them efficient. There are endless ways to achieve an up-to-date kitchen with a wide range of kitchen design trends. These ideas can help you transform your outdated kitchen into an attractive, cozy space.
1. Replace the Countertops
A kitchen countertop acts as the room's centerpiece. The kitchen's appearance has much to do with the countertops' designs. When selecting countertops as a modern home kitchen design inspiration, it is essential to consider durability, affordability, functionality, material, and color.
Marble is one of the top kitchen countertops trends. It gives a high-end finish to kitchen countertops, which has seen its popularity increase for decades. Marble adds an elegant touch of style, a modern home kitchen design inspiration. Using its neutral colors creates a perfect blend with other shades in the space.
Granite is a natural product with rich beauty. Visually, they take a kitchen's countertop to the next level. Granite is preferred because it is hard and can resist scratches. Granite is also an ideal material for any kitchen countertop due to its heat-resistant properties. Most kitchen designers opt for a white granite countertop due to its stunning appearance and the illusion of space they give to the room.
Tiled kitchen countertops offer the opportunity to be creative. You can also use tiles to create interesting patterns or textural combinations. It is more convenient to replace a broken tile than an entire slab, making ceramic tiles more manageable. Opt for ceramic tiles for a low-cost and durable refresh.
Wooden countertops have made a major comeback by securing a place as one of the best natural modern kitchen countertop designs. They offer decorative and functional properties. By nature, wood is durable, which is ideal for your kitchen countertop. With wooden kitchen countertops, you do not have to worry about placing hot items on their surface due to their heat-absorbing properties.
2. Update the Flooring
Kitchen flooring often seems insignificant, but it greatly impacts the general appearance of the space. Apart from having an appealing floor in your kitchen space, it is important to factor in durability and safety since kitchens are high-traffic areas. Modern home kitchen design inspiration also involves flooring that is easy to clean since kitchens are prone to spills from food and drinks.
Hardwood floors are warm, water-resistant, durable, and give a stylish finish. Hardwoods are versatile hence can complement all types of interiors. With hardwood, you can have upto five refinishes, a perfect property that saves on replacement costs. Hardwood can also be layed in patterns to achieve any desired kitchen look.
Like hardwood floors, laminate floors are warm, give a neat finish, and are available in various colors and styles. Laminate floors are easy-to-clean and scratch resistant. It is the preferable type of flooring for kitchen remodelers for its ease of installation and its ability to mimic hardwood and stone floorings.
Tile flooring is the go-to option for moisture-prone areas such as your kitchen. If installed and sealed properly, tiles can have a longer life span. You can achieve playful patterns with different shapes to form a unique and stylish floor with tiles. Ceramic or porcelain tiles are the most popular for kitchen floors.
Natural stone is also a good option for kitchen flooring. Like ceramic and porcelain, stone flooring is durable. It also offers a variety of naturally occurring colors and patterns. Stone flooring offers the best long-term solutions when installed on a sturdy floor. In addition to an elegant finish, stone floors are suitable for homes with pets since they do not harbor their fur.
Modern vinyl floors are durable, unlike previously used vinyl sheets. They are completely waterproof regardless of the water on their surface, which makes them an admirable modern home kitchen design inspiration. The most popular types of flooring are plank and tile vinyl forms. Vinyl flooring is low on maintenance, making them perfect installations for the kitchen. There are also various designs to choose from, making it easier to achieve any desired look.
Carpets are one of the oldest types of flooring that have stood the test of time without losing their relevance in our homes. Carpets are still a source of modern home kitchen design inspiration. Modern carpets are, however, advanced in texture, look, and properties. Nylon, polyester, and polypropylene carpets are best suited for kitchen floors due to their ability to resist stains.
3. Spice Up the Walls
Cabinet installations are a clever way to achieve a modern home kitchen design inspiration by putting empty wall spaces into use. Cabinets are a good way to get convenient storage spaces. Cabinets with multiple shelves and drawers make kitchen organization easy by reducing clutter in all the wrong places. Ultimately, a well-organized kitchen is a modern home kitchen design inspiration.
Go for custom-made cabinets for a fulfilling aesthetic look. Hiring custom cabinet manufacturers, even when not doing major renovations, can go a long way in transforming the kitchen's entire look. They will give you quality, which goes hand in hand with the cabinets' longevity. Adding flower vases to open cabinets is a good way to accessorize them
Adding several picture frames can also break the monotony in the kitchen walls. Apart from the decor aspect that picture frames add to your space, they also have a way of giving your space a final look. When selecting a picture frame for your kitchen, ensure it is a perfect blend of the theme and color shades in your kitchen. It is equally important to pay attention to placement as it has everything to do with the final look of the space. Ensure you do not use too many picture frames to avoid cluttered walls.
The use of decorative mirrors as a wall accessory is another modern home kitchen design inspiration. In addition to boosting lighting, which adds an illusion of space and depth to your space, mirrors bring in a touch of glamour. For safety purposes, all backsplash mirrors should be made from tempered glass to avoid breaking from accidental knocks or heat exposure.
4. Consider More Lighting Sources
A well-lit kitchen is enough inspiration for any mum to cook. Having large windows is a common way to let in light to your kitchen. They offer adequate light to work around the space. It also makes your space appear larger. Large windows also bring in enough fresh air, which is every kitchen's essential need.
Decorative light fixtures are a good way to get enough light at night. They include;
Accent lighting. These lights illuminate a particular area. Accent lights draw attention to a specific object or area by highlighting it.
Ambient lighting. These lights offer illumination to the entire room.
Task lighting. As the name suggests, task lights deal with specific tasks, such as cooking.
Decorative lighting comes in various colors and types. They can be strategically placed in your kitchen as decor accessories to brighten the room.
5. Replace Kitchen Appliances
Replacing kitchen appliances with the latest in the market is crucial to achieving a modern home kitchen design inspiration. Understandably, you would consider repairing your old electrical appliances before getting new ones because of their price. It is, however, important to factor in the appliances' life span. If it has served you more than halfway through its lifespan, the repair cost would be higher, so why not secure a new one? Replacing appliances prevents future failures and allows you to upgrade to the latest models.
When you decide on an upgrade, research what's trending before making a purchase. Compare prices and value before settling for a specific brand. Purchasing without thinking through ends up in poor purchase decisions. Once you compromise on quality, the appliance will not serve you as long as it should, which will cause you to incur more repair costs due to frequent breakdowns. A kitchen that has frequent appliance breakdowns is not an inspiration.
It is also essential to choose energy-efficient appliances when replacing them. They are not only trendy, but they could also save you a huge deal of money by economizing on utility bills. There are also rebates when buying eco-friendly appliances. Though they vary, it is an important factor to consider because you could save some money.
For the replacement to be smooth, it is crucial to consider issues arising. If your kitchen is not quite spacious, why replace a small dishwasher with a bigger one? It will create unnecessary inefficiency issues. It is important to deal with such issues before any replacements.
To get an appealing finish, it is essential to go for appliances that match the color, quality, and brand. The appliances should also blend perfectly with other elements in that space.
6. Consider a Garage Upgrade
Garage upgrades significantly impact kitchens linked directly to them. Ensuring that it is in perfect condition contributes to the functionality of your kitchen. The most important aspect of the garage is its doors. Garage doors are prone to wear and tear due to frequent opening and closing, which makes regular garage door repairs crucial. Failure to take on this safety measure can lead to life-threatening situations. The advantages of having a linked kitchen to the garage are;
Convenience. Carrying grocery shopping directly to the kitchen is easier. It is also easier for fuel delivery services to access your kitchen through the garage. Disposing off garbage through the garage is also convenient as it avoids awful smells when passing through the living room or dirt spills on the floors or carpets.
Safety. It is a rule to equip all garages attached to houses with fire protection measures. Garages are flammable due to car fuel, and so is the kitchen. Having fire-rated walls and cars provide a safe exit in case of a fire.
Garages are also used as storage rooms, the most common items being bicycles and gardening supplies. Some people use them as storage facilities for cleaning supplies, extra bedding, and utensils. The most crucial thing about garage storage is organization.
If you find it challenging to bring order to your garage, you can always rely on garage storage solutions, professionals who deal with garage storage organization. Walking through a well-organized garage creates the mood as you enter your kitchen.
What Are the Advantages of a Modern Kitchen?
A modern kitchen design offers premium storage. Modern kitchens have cabinet installations that store utensils and small appliances. Modern kitchens also have pantry cabinets used for food storage. These cabinets bring order and organization to the kitchen by removing lined clutter on the countertops.
Modern kitchens are appealing. They add aesthetic value to the entire home. The touch of elegance they bring along brings comfort and joy when working in the kitchen. Working in a beautiful environment reduces stress, a plus for one's health.
Modern kitchens are easy to clean with modern flooring installations. The availability of adequate light also makes detecting dirty or dusty surfaces such as the window shutter easy. With adequate lighting, it is also easy to detect any leaks that could necessitate the need to call for mold removal services before they escalate.
Investing in a modern kitchen will save you money in the long run because they are long-lasting. There will be no need to spend on repairs, increasing the productivity and functionality of your kitchen.
A kitchen upgrade automatically transforms the look of the entire home. A modern kitchen is a crucial consideration in this era due to its many benefits. There are so many contemporary styles available. The essential thing is to choose one that will blend in perfectly with your home.