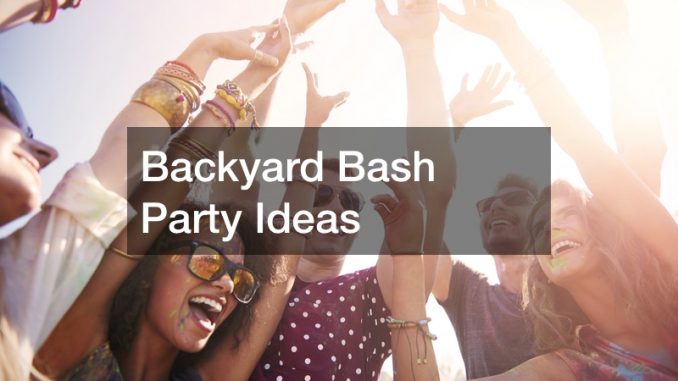 The best parties are where you and your friends can plan together. The most important thing as you cowork with anyone in planning a party is to remember that the event is for you to enjoy. Ensure you have fun and be creative. Do not forget to incorporate what you want to do. The following backyard bash party ideas will make those all-too-common parties and summer nights unforgettable.
Consider a Themed Party
A themed party is one of the excellent backyard bash party ideas. There is no need to hire expensive caterers or interior designers for themed parties. You can use your grill tools, find some excellent party supplies at the dollar store, and serve up some hamburgers for friends within minutes. Throw your themed bash in your backyard and have a blast.
More than anything else, a themed party is about dressing up and having fun with family and friends. Get those costumes ready and start planning the best party you have ever thrown. Choosing themes can be a fun experience in itself. It gives folks something exciting or creative to talk about at the party.
Choosing a theme should not be done too early in the planning process. It could hurt the party by being too limiting in what you can do. If you throw the party for a large group of people who do not know each other, you may be inviting trouble by hosting such an event. Themed parties can be more expensive than average backyard bash party ideas.
If hosting a themed party, ensure that your guests know the theme. It is also crucial to ensure that each guest knows how they will be dressing. Themed parties should be fun for everyone involved, including you. Make sure to enjoy yourself and have fun with those who attend with you on this one-of-a-kind event.
Set Up a Self-Service Bar
There is something so refreshing about a backyard party. The warm summer day, your favorite tunes pumping in the background. The thought of seeing people you love sprawled out on lawn chairs make it worth investing in fun backyard bash party ideas.
Self-service bars are a creative way to serve drinks at events that draw huge crowds. Instead of filling drink orders one at a time, you can set up a self-service bar that guests can use to serve themselves. Your guests will serve glasses containing different types of alcohol, mixers, ice, and garnishes. This helps you avoid spending time running back and forth from the bar.
You can use individual drink stations. These are bars that guests can use to mix up their drinks. The concept is simple. Guests pick a drink from the chiller, pour it, and garnish it as they please. The result of a self-service station is a fast-paced cocktail party with something for everyone.
A self-service bar can also be as simple as a bar cart with different liqueurs and glasses lined up on the top. The more self-serve stations you have, the easier it will be to distribute bottles. If you have a lot of people at your party, it is probably best to get a chiller or set up ice stations where guests can fill their glasses and add garnishes themselves.
Incorporate Lawn Games and Activities
The weather is cooling down, and the leaves are falling. This means it is time for some fun in the neighborhood. It also means more excitement for everyone, including the toddlers. One of the backyard bash party ideas is choosing activities and games full of fun. Plan some social lawn games and activities to keep your guests in the yard.
A variety of games can provide the entertainment needed to keep your guests outdoors all day. Lawn games, such as horseshoes or bocce ball, entertain the whole family, including middle school children. You can also plan relatively passive games, like cornhole or ladder ball. In addition to lawn games and activities, you can also provide some additional lawn game items.
For example, a traditional game of badminton or volleyball will appeal to a wide range of ages. It will also allow workgroups or families to interact in the same field. If it is a hot day, have plenty of water ready for your guests. Anything from ice-cold sodas and water bottles to lemonade or iced tea will be appreciated.
Having a great spread of food is also necessary for a successful backyard bash. Choose foods that people can eat quickly while standing. You can opt for chips, dips, sandwiches, or donuts. If you plan to have any beverages with your food, have plenty of plates and napkins available.
Host a Barbeque Party
Barbeque parties have become a popular trend. To implement successful backyard bash party ideas, ensure you plan adequately. The first step to throwing a successful backyard bash party is deciding what kind of food you would like, who the guests will be, and when the event will be.
There are many varieties of food from which to choose. It is best not to serve anything too spicy or complicated for most parties. This ensures that all your guests can enjoy themselves without feeling discomfort or sickness from the food you make. For some homeowners, it could also entail finding tips on how to get rid of mosquitoes, among other outdoor preparation activities.
The backyard bash encompasses the basics required for a successful backyard barbecue. BBQ parties are best suited for outdoors on sunny, warm days. The perfect location will be a backyard with a light shade to avoid direct sunlight. The space should also have plenty of room and access to water faucets. It is always good to pick somewhere near your house as well.
The yard is also an ideal spot for cooking and grilling. You might be lucky enough to have a backyard with its grill. You can also use the outdoor kitchen on your deck, patio, screened porch, or balcony set up at home. These options allow you to cook within the same space without fighting fire with fire as your guests enjoy themselves in the yard.
Decorate With Garden Flowers
Decorating with flowers is one of the most tried-and-true methods for adding a pop of color to your party tables. Blooming plants and baskets, pinwheels and potted plants, plastic or ceramic table arrangements can be used in matching colors. They are all viable options when you need to dress up those plain white napkins. It is also a great way to liven up the food display at the buffet table.
You can use flowers to implement several backyard bash party ideas. For instance, you can arrange blooming plants or flowers in baskets or containers on the tables for these outdoor events. Consider using galvanized buckets and watering cans for a rustic feel. You can also fill up glass hurricane lanterns with colorful blooms.
For more sophisticated tablespaces, plenty of affordable ceramic table arrangements is available in stores. These generally have three or four sections interspersed with leaves. They provide ample space for your party food plates. Also, consider using artificial arrangements. They do not wilt in the heat. You can also quickly move the flowers from one location to another.
Another simple yet effective way to incorporate garden flowers into your backyard bash is by making a centerpiece for your outdoor dining table. You can use a large basket, bucket, or container filled with smaller potted plants in matching colors. In addition to the flowers, you want to consider the color scheme for your table. As with indoor tablespaces, introduce an accent color through a runner or a tablecloth.
Host a Pool Party
Some backyard bash party ideas are easy, inexpensive, and fun in your backyard. One of them is hosting a pool party. For this idea, you will set up an outdoor themed event such as a poolside barbecue with food and games for all of your guests to enjoy. It is the perfect summer day party idea.
Take advantage of the outdoors while still having fun indoors by hosting a taco bar. Serve up yummy tacos and margaritas on a grill or set up outside. This is a great idea to include all of your guests, not just the adult ones. Everyone loves eating, drinking, and having fun. Ensure your AC works for quality air in your house if guests want to spend some time there.
The best part is you will have the opportunity to grill out on the patio. You can bring everything back into the house so that the adults can have their turn in the party pool. There is nothing like grilling out with margaritas for a fun backyard bash. Bring out all of your margarita glasses and serve up delicious appetizers.
Have some cheese quesadillas, guacamole, chips, and salsa, or even some fried macaroni and cheese balls to go along with it. You do not have to spend a lot of money on games and prizes because you are hosting an outdoor event. Check out your local dollar store and even some grocery stores for some outdoor themed party games for sale.
Use Paper Décor
Guests can head over to the buffet. They can find an array of food waiting for them to gorge themselves on. The party starts with a few French fan and taffeta pieces, then scales up to the decor. Paper parasols, lanterns, and even a good old-fashioned paper tablecloth are some simple ideas for decorating an event.
Decorating for backyard parties takes some planning. Once you have decided on the number of guests, already have a theme for the party, and have done your budgeting, you can now start decorating. Backyard bash party ideas may also involve decorating with wine bottles wrapped in gold foil and multiple shades of brown paper.
When deciding what backyard bash party ideas for paper decorations you want, it is best to go for something that looks quite classy. It would help create a party atmosphere by setting up furniture, lighting, and other accessories. A fabulous way to do this is by using cushions scattered around the backyard. Place them where everyone can sit down and rest their feet as they watch your favorite guest entertainer.
Making your out-of-paper plates will look more authentic than those bought already made. You can easily create the paper plate flowers in bulk and set one on each table at your party. You can also use other decorations such as streamers, balloons, and straws to decorate your parade. The possibilities are limitless, with so many ornaments that you can choose from.
Choose a Color Scheme
A party is a fantastic opportunity to put on your favorite clothes and jewelry. The great outdoors is fun, with some excellent backyard bash party ideas in the summertime. While many people decorate their yards with lawn ornaments, a garden party is always better with a theme. Some ideas are easy and cheap. Others are a little more difficult and pricier to pull off.
When choosing a theme for your backyard bash, think about how the guests will interact with the party. Think about what the guests will like doing when they come over. You should also consider what kind of activities you want to participate in. Whatever you choose, it is a great chance to show your creativity as a homeowner and host.
If you are determined to have a sports-themed party, then you can always go around crafting some makeshift volleyballs for your guests to play with. It is an excellent way of getting them outside and having fun in the sun. Regardless of what kind is chosen, it has a significant impact on the overall design of your backyard.
Backyard bashes have been around for quite some time. Parties are a great way to get together with friends. They also offer a chance to trade some of life's stories over those famous backyard grilled burgers. There are several backyard bash party ideas you can consider. People can easily find these ideas all over the internet.