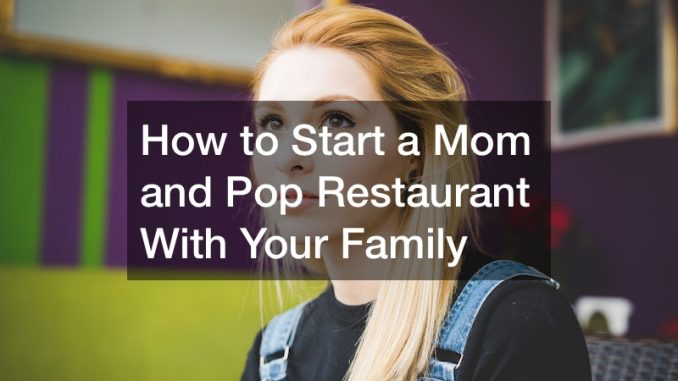 Family restaurants are much-loved, and as the name suggests, it is excellent for the whole family, from the youngest to the oldest member. If you have a love for food and want to share your passion with your community, why not open a family restaurant?
Maybe you've already given it some thought and you're reading this, then you're in for a treat because this article is all about how to start a mom and pop restaurant. So, carry on reading and get some excellent pointers for your next exciting chapter.
Plan Your Restaurant
Have a clear plan of what you want as a restaurant. Your business plan will help you narrow down things and understand more details about the market or what you could expect going into this niche.
When looking into how to start a mom and pop restaurant, you should have an idea about how the atmosphere will be, the food you'll have on the menu, play areas for kids, and the lounge-like comfortable seating that everyone enjoys while having their meal.
Will your restaurant sell alcohol? If so, you must ensure that it is licensed and has gone through the necessary requirements to be approved for running a family restaurant with a liquor license.
Get Your Finances Ready
Before getting into how to start a mom and pop restaurant, you may need to establish the finances involved. What you'll need to get the business started, and you might even have to do some renovations on the building before even opening the doors. Often, the deal on a property that needs extra work and TLC, as the realtors say, could require doing some improvements to make the building comply with the regulations and requirements in the region for restaurants.
You need capital, as do all business when starting out, but you could also need additional cash flow to fund renovations should there be any required on the one you've purchased. If you're renting a property, it will help to pay the rent upfront for a few months so that it gives you some wiggle room if you, by any chance, started off to a slow start with breaking even.
There are many accounting for businesses software programs available that make it simple for regular entrepreneurs without an accounting background to still be able to run the books and allocate funds accordingly, keep up with taxes, and manage the money and cash flow of the company.
Pick Your Team
Carefully select your team, as they will be the branches of this well-oiled machine that is your mom-and-pop restaurant. You'll need a chef, a cook to help, servers to carry out meals, front-of-house staff to welcome your guests, a manager if you're not managing the business, and a sturdy balance of teamwork and service excellence.
Design the Right Space
Make your restaurant look great. The architecture and design elements involved in designing your restaurant are very important. Whether you're located in a high-end area or you're located in the city, you should design the restaurant to stand out and be unique in its own way.
When looking for ways how to start a mom and pop restaurant, consider what families like. Families with kids would appreciate the simplicity and be able to have activities for little ones. Consider hiring an architect design firm to help you create the most suitable place that will accommodate your needs and that of your customers.
Light, bright, and airy, or perhaps rustic and cozy. Whatever design you'd like, you can present your ideas to the design company, and they will further help you refine it even more.
Draft a Menu
For your family restaurant, you'd need a menu for the children and one for the grownups. You could divide your menu for breakfast, lunch, and supper while also having an additional beverage menu.
Also, on your menu, be sure to add food items that children will love, and while so, these foods should also be nutritious and tasty. Offer foods that are in season so that you can source in-season ingredients and reduce your expenses for obtaining ingredients for your meals on the menu. Give your guests variety, with one or two-star items on the menu that make your restaurant unique and stand out from the competition.
Maintain Your Utilities
When considering how to start a mom and pop restaurant, maintaining your utilities is a critical part of the process. Still, you have to make money to keep the doors open and the lights on, so making sure that you maintain the utilities is essential.
Septic maintenance is very important, and more so when running a restaurant. If a septic tank isn't working properly, it can cause the water to seep through to the toilets and drains, thus exposing staff and customers to untreated wastewater. Septic system maintenance and repairs are vital, and looking after them helps to ensure they works well.
To manage your septic tank at the restaurant, make sure that grease isn't poured down the drains. The grease trap should also be kept clean to avoid oils from getting into the skeptic tank and use a filter when draining water to prevent bits from going in.
Maintain Your HVAC Systems
Air filtration and temperature control are crucial for your commercial property, just as it is for your residential home. Ensuring that you have your HVAC in working order is essential for the longevity of the system and for the convenience of a reduced energy bill. Remember, when heating and cooling systems are not working properly, they tend to use more electricity and don't clean the air as efficiently as they should. Get the help you need from reliable HVAC maintenance companies and allow them to fix and even replace your HVAC for a more efficient unit.
Your restaurant also needs hot water, and commercial boiler companies can install the best ones suited to your property's needs. Restaurants also rely heavily on boilers for various food prep, cleaning dishes and cleaning equipment.
Furthermore, cleaning the restaurant using hot water and detergent is also a must to keep germs at bay. Ensuring that the boiler is working at its full potential will avoid unnecessary energy use because, just like the HVAC, boilers can also function less efficiently when they are not maintained.
Remodel the Bathrooms
Commercial bathrooms shouldn't be taken for granted. In fact, good-looking bathrooms are always great and a pleasure to visit. If your newly acquired building doesn't have a bathroom, make sure that you work with the designers so that they can help you build guest loos. The bathroom can match your décor and the theme of the restaurant so that it also ties into the design of the overall place.
Speak to a commercial plumber to help you establish any requirements needed for the renovated restrooms. The plumber can also inspect the existing plumbing to see if there is anything that needs repairs or replacing. You may install water-saving additional features that will reduce your utility bill for water use in your commercial mom-and-pop restaurant.
Add Accessibility Features
Make your restaurant accessible because, in this way, you can cater to everyone, even the mobile impaired. Add ramps for guest wheelchairs, and add handles on the sides of walls for guests to hold onto if they need additional support while walking to and on your premises. By having accessible features, it allows your guests to know that you have considered them too.
Commercial elevator service companies can help you install an elevator to create easier access when heading to your premises. Depending on the layout or how the restaurant is situated, if need be, and it is on a higher floor, having stairs is good, but an elevator can make things easier for guests with wheelchairs, older guests, and customers with shopping carts.
Update Your Wiring
Setting a cozy and snug mood in your restaurant on cold days is essential. Your place should have heating systems for the alfresco evening or daytime dining; you may use outdoor heaters to cozy things up. There are many trendy and beautiful outdoor heaters that you can have fitted for the outdoor spaces. A fire pit is a nice addition for people looking to chill outside with a drink and enjoy each other's company.
You can also use heaters indoors, and there are beautiful ones that mimic a fireplace. You can get help from electrical companies if you need electrical panel replacements for your existing heaters. AN electrical company can also help you secure the rest of the electrical work and fix any wiring issues or potential dangers.
Repair the Roof
Another thing when considering how to start a mom and pop restaurant is the aesthetics of the building, which could include the roof. The roof might need repairs, and by doing the repairs needed, you can enhance the exterior, making it even more interesting and inviting for your guests. Work with a reputable roofing business in your area to do repairs and, if needed, replace the roof.
Add Outdoor Seating
When looking for décor points in your mission for how to start a mom and pop restaurant, you may want to add casual outdoor seating. There's something about alfresco dining that simply adds a much-loved experience to eating your food. The outdoors is vibrant and gives a sense of feel-good vibes. Add some beautiful outdoor furniture for your guests to sit comfortably and enjoy their meal.
Develop a beautiful outside area for alfresco dining for your guests. Also, as an additional security feature, add a fence around your property to keep your restaurant safe from intrusion. In general, the fence will also keep your guests safe when they are dining outside.
Some excellent options for fencing a commercial property includes wire panel fences, polyvinylchloride fence, chain link fences, aluminum fences, wrought-iron fence, and lots more. Where pricing is concerned, you can easily obtain some quotes from fencing businesses in your local area, compare them, and choose whichever one best suits you.
Give the Customers Something Extra
Customers appreciate authenticity and being treated special. It's always wonderful when a chef comes out and explains or introduces the meals that are served. It is also wonderful when staff are welcoming and warm towards the guests eating there.
When checking how to start a mom and pop restaurant, you have to be aware of the fact that there is some steep competition. You have to offer your guests something that the competition doesn't have, something that is solely unique to your business. For instance, you may want to develop a unique dish to serve on the menu or give your guests a different experience exclusive to your establishment. Some people with restaurants on farms may offer their customers a food pairing or a grape-picking experience. Just like that, you want to create something unique to you.
Team Management
A happy team and excellent restaurant service make for happy customers. Managing your team would require you to evenly distribute tasks while each one has their fixed tasks, too, like cooking food or serving the guests. Reward your staff with a good monthly salary, after all, without their help, you won't manage on your own. Every owner needs their staff or their dream team.
You can also motivate your team by initiating incentive rewards for the best jobs done and the most hardworking. This encourages the team to work even harder. For instance, upselling additions to the table meals or referring them to a more expensive but delicious and rewarding dessert to spend more. But don't worry, the food is still priced at a reasonable value and can still guarantee affordable prices for great family food.
Other Things To Consider
When looking for a way how to start a mom and pop business, you must also focus on your business marketing. Marketing will include things like social media, blog posts, advertising, and lots more to get your business out and in the know.
Have you considered more ways how to start your very own family-orientated business? Use some of these pointers to help you on your journey and give you more ideas.