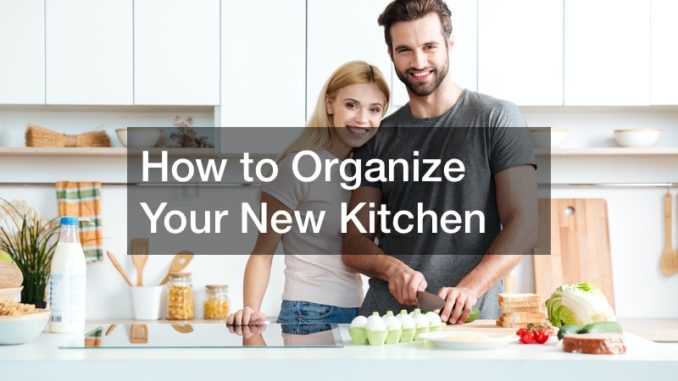 The kitchen is one of the unique and essential rooms in your home. However, many homeowners ignore the idea of keeping this place organized as long as their meals are ready. A dirty and disorganized kitchen is unappealing and a recipe for accidents and ridicule from your visitors. In such a case, it is ideal for learning how to organize your new kitchen by following the points discussed in this article.
The Best Tips for Kitchen Organization
Understanding how to organize your new kitchen is essential because it will help you make the most of the available space. You can go about your meal preparation in an orderly manner since it will be easy to locate the utensils and ingredients you require for the food. Additionally, you get a sense of pride by knowing that the room is well-organized. That is why it is recommendable to stick to the following tips that guarantee a well-arranged kitchen.
The Pantry: Organize by Food Type
Chances are your new kitchen is different in layout from your previous one, which can make it hard to locate the foodstuffs you need to prepare a meal for your family. Rethinking how you store your food items is a critical technique for understanding how to organize your new kitchen. Experts in house arrangements recommend using uniform containers for food items, such as flour, pasta, sugar, and grains.
You can put the pantry in a drawer next to your cooking station to make it easy to access the foodstuffs. It is a new kitchen, but if the drawers are not big enough to accommodate the pantry, it would be best to consider hiring licensed kitchen remodel contractors. Confusion may arise during cooking, where, for instance, you find yourself adding sugar to your rice instead of salt.
The easiest way to avoid such occurrences is by using stickers to label every container depending on its contents. You should preferably stick the labels on the lids for easy identification, considering that you will have stacked the containers together in the pantry. The room may be new, but if the space is not enough, you do kitchen renovations to make it more spacious as long as your budget allows it.
The Kitchen Cabinets: Consider Height and Placement of Items Inside
The cabinets in the room come in handy when it comes to storing utensils, cutlery, and even some kitchen appliances. However, you must ensure that the space is enough, especially if you are considering installing custom kitchen cabinets. The main advantage of individualized cabinets is that you can tune them however you see fit. This is where you pay close attention to the items you will be keeping in such compartments to understand how you will arrange them inside. Your family, including the children, should not have difficulties identifying and reaching for the items they need from the cabinet.
Nonetheless, you need to be careful about that because you may not want your kid reaching for sharp items, such as knives and forks. Therefore, one of the best tips on how to organize your new kitchen is to divide your cabinets into different proportions and understand how you will arrange your stuff for everyone's convenience and safety. The best approach is to store similar items together and designate a lower cabinet for stackable containers, plastic cups and plates, and your kids' lunchboxes.
The Fridge: Organize the Food for the Whole Family
You had had a kitchen before you bought or built this new one. Therefore, you understand how essential a fridge is for keeping your food and drinks fresh and safe. However, you can also attest that a messy refrigerator makes the room appear dirty and disorganized. One of the crucial tips on how to organize your new kitchen is ensuring that everything in your fridge is arranged correctly. You do not want your partner yelling at you in the morning because they cannot locate milk from the refrigerator. Additionally, it would be irresponsible of you if your kids got late for school because you had to get everything out of the fridge to reach a milkshake.
According to experts in kitchen arrangement, the best way to arrange your fridge is for the day's meals. Before arranging the foods and drinks in your fridge, you need to get rid of the expired ones. This should be a regular undertaking even after settling in your kitchen. You should note that green and leafy produce goes bad pretty fast.
It would be wise to set the fridge temperature to one that does not promote the growth of wilt. The final thing to check on this tip on how to organize your new kitchen is the storage bags you use for the items in your fridge. It is recommendable to stick to clear plastic containers to keep loose items, such as snacks and corral condiments, together. This ensures easy access to such foods. However, it would be best to label the containers appropriately to make it easier for your people to find what they want from the refrigerator.
The Breakfast Nook: Consider Storage Space and Backyard Views
According to health and fitness experts, breakfast is the most important meal of the day. Your body has been resting for some hours, meaning that it is ready for a great meal to start the day. Having a breakfast nook in your kitchen is a great idea, but you have to consider the available space. If the tables and chairs make the room stuffy and congested, you can have them removed. However, as you enjoy breakfast in your kitchen nook, you should also be concerned about the view from your backyard that you enjoy. Besides a great view, don't you think it would be lovely to experience some sunlight as you enjoy your breakfast?
That is why it is essential to consider how you position the nook in your kitchen to make the room appear neat and organized. Light comes in through the windows. So, if the ones installed in your new kitchen do not allow natural light in, then you should highly consider procuring the services of window contractors. In a different scenario, the windows may allow light in, but it is not enough because there are some barriers, such as trees, shrubs, and bushes, blocking the path. In such a case, the best approach here would be to consider having such barriers removed. Fortunately, it is easy to find an affordable tree service today, even within your locality.
The Appliances: Teach Your Kids How to Safely Use Them
Understanding how to organize your new kitchen does not only entail arranging everything but also knowing how to use all the items in the room. This mainly applies to your kids, especially when it comes to using the kitchen appliances, such as a toaster, microwave oven, or blender. The first obvious step to take is to have appropriate storage for such devices. Nonetheless, what happens when you are not at home, and your children want to, for instance, warm some pasta for lunch using the microwave oven? That is why, after ensuring safe storage, the next step should be to tutor your family on how different kitchen appliances work.
With such knowledge, your new kitchen will not only be organized but also safe for everyone. You must have heard cases of kids who messed up the kitchen faucets just because they do not comprehend how such a plumbing system works. In such a scenario, you may incur extra costs of calling in a water damage restoration company to handle the issue. Therefore, you can see why it is essential to keep your children updated about all the appliances in your kitchen.
The Walls: Consider a Soft Color Scheme and Shelving
The walls play a significant role when it comes to an understanding of how to organize your new kitchen. The colors on the walls can make the room appear bright and spacious, but they can also contribute to the disorganized look of your kitchen. That is why it is recommendable to go for a soft color scheme because it allows easy matching with anything else in the room. If you are overwhelmed by the available color scheme options, it would be better to talk to an expert who is better positioned to give you clear guidance on that. Once you have the right wall paint and color, the next stage is to decide on how you can take advantage of the walls without messing up the entire room.
Shelving has become a common option among many homeowners because it allows them to utilize the wall spaces in their kitchens to the maximum. So, why should you be different? Creating shelves and shelving the items in the cooking room gives you ample time when preparing meals for your family, and above all, it makes the room appear organized. One of the best ways is to create a pot and pan wall corner by painting a particular niche in your kitchen and screwing in modern hooks. Such a shelf can also increase the space by allowing you to store different containers for easy access.
The Decor: Keep It Simple and Eco-Friendly
Exaggerated decor will always make a room appear dull, disorganized, and unattractive. It is for this reason that interior designers encourage you to go for simpler decor when it comes to how to organize your new kitchen. Simple does not mean cheap, but you do not have to spend lots of money adding expensive decor to your kitchen. You can use that amount to make improvements to other parts of your home. One point to remember is that the decor you add to your kitchen should positively impact the environment. The climate has changed dramatically over the last few years. This is why governments around the globe emphasize people should create eco homes.
Adding a few plants and flowers to your kitchen is one way to make it aesthetically appealing and eco-friendly at the same time. Nonetheless, you do not just pick any plants or flowers and take them into the room, considering that some of them can be dangerous and even contaminate the food you prepare for your family. It is crucial to consult a professional who understands plant interior designs because they know what is suitable for your home and family.
The Outdoor Kitchen Space: Organize, Clean, and Store
When you hold parties and gatherings in your home, you want to give your visitors a treat with a sumptuous meal. However, in most cases, for instance, when having a barbeque party, you will need to utilize your outdoor kitchen. This shows why it is critical to also think of organizing such a space. Your visitors, and even your family, will want to consume food prepared in a neat and arranged place.
Therefore, you should take it as your responsibility to ensure that you follow this tip on how to organize your new kitchen to the letter. First, you need to do the necessary cleaning of your outdoor kitchen. Wash the outdoor grill, clean the oven, and ensure the floor is clean, too.
Secondly, you need to arrange everything in the outdoor kitchen space, including any chairs and tables. Finally, you need to create storage for anything that may not be useful in this place. For instance, you can decide to store any broken chairs in your garage or any other storage facility in your home. Once you are done with the three procedures, you can be confident that you, your family, and visitors will have a great time enjoying an outdoor meal on your backyard concrete patio.
A kitchen is a necessity in every home. That is why you see it fit to build a new one or buy a home with a better kitchen. Disorganization in this room can even ruin your reputation amongst your friends and neighbors. Besides doing the dishes, cleaning the floor and the countertop, how else do you keep the room looking organized? It is by following the tips discussed above.