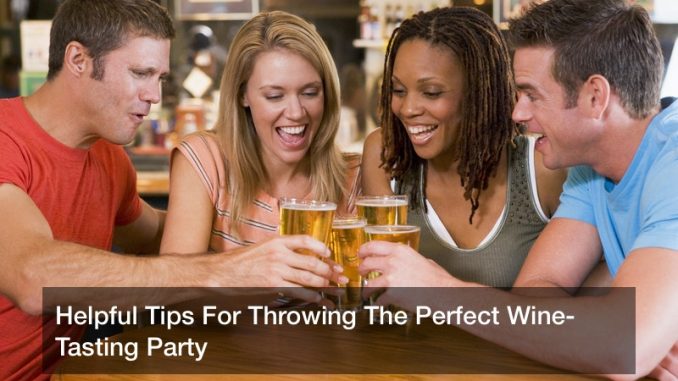 If you consider yourself a wine connoisseur, then you probably know how much fun wine parties can be. After all, what's better than spending time with family and friends, getting to sip your favorite wines, getting to try new wines, eating good food and generally just having a nice time.


If it's your turn to host a wine tasting party don't fret. If you're looking for good wines for the party, there are plenty of online wine sellers offering everything from cheap wine online to rarer wines for the most special of occasions. Either way, you can't go wrong because one of the best things about wine parties is you get to sample all kinds of wines.


So if its your turn to host, here are some ways you can make it perfect, memorable and fun:
Find a theme: Whether you're talking about a wine party or a birthday party, everything is better with the theme and these days, you can search online for hours trying to find the best one.
How do you pick the best theme? Go with what you think works best. A regional theme for example, might feature wines from a certain area of France. A value theme might feature wines that are affordable (say under $20). A state theme may feature different wines from online wine sellers throughout the state you live in paired with local foods. You can't really go wrong with the theme you pick, just try to keep it fun and make sure to have plenty of variety.
Don't forget food: As previously stated, you can buy all the wine you need from more than a dozen reputable online wine sellers, but what pairs well with wine? Good food is the answer. As you peruse different online wine sellers, you'll likely find that many of them also sell food that pairs perfectly with the wines you'll be serving. You can go with savory foods or sweet foods, either way your guests will be satisfied if they can enjoy wine and fill their stomachs too.
Think small: If you're hosting a wine tasting party, keep the guest list small (think about 10 people or so). Why? This way each of your guests can sample about a full bottle of wine when all is said and done. It's also important to note that since each person will be drinking roughly a bottle of wine—provided they're sampling about 10 wines or more—keep portions small and make sure you've got some spit buckets on hand. Even if your guests are enjoying wine, they likely don't want to be drunk by the time the party's over.
Have all the supplies you need: Wine and food are must-haves for a good wine-tasting party, but you also need all the necessary supplies that go with hosting a party. That includes spit buckets, plenty of glassware, pen and paper (for note taking) and even some palate-cleansing foods like bread or crackers so people can really enjoy all the wines at the party and get ideas about which ones they really liked.

There are plenty of health benefits of drinking wine and it's no secret that Americans love drinking it. With more than 7,000 wineries around the United States and more than 10,000 kinds of wine grapes in the world, the possibilities for drinking wine are just about endless.


If you're looking for the perfect wine or wines to search at a wine-tasting party, get online and visit online wine sellers. You'll be able to read up on all the specifics for any bottle of wine you're interested in, get plenty of wine deals online and have plenty of variety to choose from. It doesn't matter if you're looking for red wines, white wines, dessert wines or rare wines, you can find just about anything and often at affordable prices.


By taking time to do some research on wines and foods from different online wine shops, you can throw one heck of a wine party; one that will be well-received, enjoyed and give friends and family a chance to sample some delicious wines.