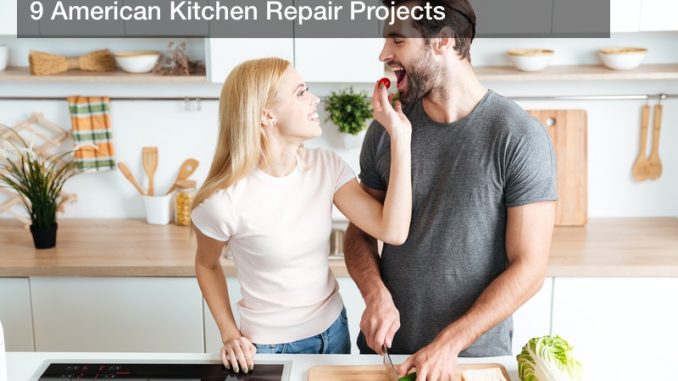 Updated 1/4/21
The average cost to replace kitchen accessories varies, especially since people might want to replace several kitchen appliances at once. A completely new refrigerator might cost fifteen hundred dollars. While microwaves are much less expensive, people still might spend around two hundred dollars on a new microwave, especially if it's a built-in version. The basic kitchen remodel cost can be high because of how many items may need to be replaced.
People who need to pay for plumbing repairs when they remodel their kitchens will also spend more money on the kitchen renovation process than they would otherwise. However, there are many awesome kitchen ideas that aren't as costly. People can create great-looking kitchens without completely changing everything about their older kitchens.
Some appliances might not need to be changed at all, especially if they're still functioning properly. People might just need to move them or add something new to the kitchen. Making even a few minor changes to any kitchen can help make this room seem noticeably different. Adding some new decorations and changing the kitchen wallpaper can already alter a kitchen's overall design. As long as the older appliances still fit with the new kitchen visually, there shouldn't be any issues.
COVID-19 has changed the summer plans for many Americans. Rather than traveling and spending time in outdoor activities, many people are electing to stay near home and cut down on non-essential activities. In fact, the 1 million people in North America with braces even canceled their orthodontic appointments.
While this might feel constraining, there is a silver lining. Money that was budgeted for summer travel can instead be put into home renovation projects. Moreover, with so much time at home, Americans can clean, reorganize, and learn new skills in their renovated homes.
The most popular home renovation projects are bathrooms and kitchens. Here are nine American kitchen repair projects and renovations the pandemic has spawned:
Organization
Staying at home helped people identify what they use and what just takes up space. People confined during stay-at-home orders had the perfect opportunity to stress test their surroundings. They could not eat out, so they had to use their kitchens. They had to use their kitchen appliances, so they learned the functions they like and dislike. Most importantly, being confined to their homes, they began to think about the space they use and misuse.
As a result, spring cleaning came early to many homes this year. Before American kitchen repair and renovation projects could be started, many homes had to throw away or donate the stuff cluttering their kitchens. Once the de-cluttering was completed, many American kitchen repair and renovation projects began with organization.
For some kitchens, the storage space was inadequate. These homes' American kitchen repair projects would include adding storage (described later). However, for many kitchens, the storage space was adequate and they merely needed to use the space more efficiently.
For these kitchens, closet organizers were a quick, inexpensive, and easy way to accommodate their storage needs without buying all new cabinets. In the kitchen, closet organizers maximize your pantry, cabinet, and utility closet space by making use of unused space. For example, the back of cabinets, the tops of closets, and the sides of your pantry may be empty because there are no shelves or racks for storage or the spaces cannot be accessed easily.
Equally importantly, most closet organizers can be installed on your own if you are handy with a drill, screwdriver, measuring tape, and level. Custom-made closet organizers that are tailored to fit your closets, pantry, and cabinets can be ordered online and delivered to your home so you do not need to risk going out to shop.
Appliance Repair
Spending time at home during the pandemic left people highly reliant on their kitchen appliances. Many learned that their appliances were either not working correctly or did not provide all the needed functions. Fortunately, repair services were considered essential during the stay-at-home orders and refrigerator repair providers and other appliance repair services remained working.
Deciding whether to repair or replace a damaged refrigerator is usually a matter of comparing the repair expense to the replacement cost. However, for older appliances, this comparison might be misleading. Even if a repair is only $100, repairing an older appliance might not be worthwhile if it is nearing the end of its useful life and will need replacement soon anyway.
Some estimated lifetimes for kitchen appliances are:
Gas stove: About 15 years.
Garbage disposal: Between 8 and 15 years, depending on use or abuse.
Refrigerator: About 13 years.
Electric stove: About 13 years.
Dishwasher: About nine years.
Microwave: About nine years.
Trash compactor: About six years.
Appliance Replacement
Sometimes, it is simply not possible or would be too costly to repair a kitchen appliance. As a result, many American kitchen repair projects include buying replacements for those that cannot be serviced or repaired by an appliance service.
New appliances can be costly, so many of these shoppers will consider used appliances. Some factors that might influence whether you buy new or used appliances include:
Cost: In addition to a discount for the used condition, you can also negotiate the price of used appliances with the seller — something that you cannot do when you shop for new appliances at a department store or big-box retailer.
Energy efficiency: Newer appliances are almost always more energy-efficient than used appliances. New appliances incorporate newer technology and older appliances can have wear, deterioration, or leaks that make them inefficient.
Warranty: While some gently used appliances may still be new enough to be eligible for warranty repair, most-used appliances are out of their warranty period. New appliances always come with a manufacturer warranty if they break down under normal use.
Name brand: Name brand appliances are often more durable and have more features than off-brand appliances. Consider a used name brand appliance rather than a new off-brand appliance if your budget is limited.
Updated Plumbing
An inexpensive, yet noticeable way to update both the look and functionality of your kitchen is to replace the faucets and plumbing. As a result, many American kitchen repair projects started during the pandemic included calling a plumber.
Some examples of plumbing projects include:
Replacement faucet: A new faucet might provide cost savings if it is designed to conserve water. It might also provide new features lacking in your old faucet like a dish sprayer.
On-demand water heater: Some kitchens can benefit from a tankless hot water heater. These heaters use gas or electricity to heat up water flowing through the heater rather than heating and storing a tank full of hot water. On-demand water heaters are more energy-efficient than conventional hot water heaters because energy is not consumed to heat a tank full of water, even when no one is using hot water.
Second sink: This renovation requires a bit more work because you will likely need some new plumbing. However, if your family crowds around your current sink all trying to prepare food, wash dishes, and get a drink simultaneously, you might benefit from a second sink. The second sink can be installed in your kitchen counter or on an island to provide even more space.
Replacement pipes: Older homes might need new pipes. If your municipal or ground water supply is clean, but the water from your faucets is brown, cloudy, or has a bad taste or odor, you might want to have it tested and determine whether replacing your home's old, rusty pipes will help.
The kitchen plumbing system might be perfectly fine, but you could still be interested in modifying it. A plumbing service could help you have more options when you're in the kitchen. The essential plumbing renovation cost will obviously vary somewhat from job to job, but it still might be a lot lower and more affordable than many people have always expected.
People might be interested in running plumbing under cabinets. They might have the basic kitchen sink plumbing setup, but they could still be interested in something more extensive. The individuals who actually do need to get their plumbing repaired can usually get this particular plumbing setup fixed relatively easily since it's less complicated than plenty of other plumbing systems.
Many things can go wrong with the kitchen plumbing system. It's used all the time, which means it absorbs more stress. There's also the fact that people prepare food in the kitchen, and it's relatively easy to get food trapped in the plumbing that reaches the sink. A simple clog can cause a lot of other issues with the rest of the kitchen plumbing. Even the people who have garbage disposals in their kitchens might not be able to completely avoid these issues.
Re-wiring
Electrical demands have changed over time. Many of the small appliances in your kitchen, like your microwave oven, might not have existed when your home was built. As a result, your kitchen might lack enough electrical sockets for your use, the electrical sockets it does have might be located in the wrong places, or your electrical consumption might overwhelm the design of your electrical systems.
Some symptoms that your electrical system might exhibit if it needs to be rewired include:
Lights that dim or flicker when you run appliances.
Switches or electrical sockets that are warm or hot to the touch.
Burned or smoke-stained switch plates or outlet plates.
A smell of ozone or melting plastic. Ozone is the smell produced when oxygen molecules are broken by electric sparks and bond with unbroken oxygen molecules. It might remind you of the smell in the air during a thunderstorm.
Blown fuses, tripped breakers, or triggered ground fault circuit interrupter (GFCI) sockets.
If a kitchen system suffers from any of these symptoms, no renovation can be undertaken until the electrical system is repaired. Not only can these systems be dangerous for the residents and construction workers, a remodeling contractor hired to complete an American kitchen repair project that overlooks faulty wiring could lose their contractor's license.
Flooring
Another American kitchen repair and renovation project that can have a major impact on the look and feel of a kitchen is a flooring change. Flooring can brighten up a room, change how warm or cool it feels, and even change its acoustics.
There are many options to choose from when replacing kitchen flooring including:
Linoleum: Linoleum uses linseed oil as a protectant because it hardens when exposed to air. Although linoleum has a reputation as a cheap product, it is made entirely of sustainable and renewable materials like pine rosin, sawdust, linseed oil, limestone, and a jute or canvas backing. If you are a fan of the sustainability of plant-based meat substitutes, you should consider plant- and mineral-based linoleum.
Vinyl: Vinyl looks and feels similar to linoleum but is more durable and is available in many more patterns and textures. However, vinyl is a petroleum product and is not sustainable or renewable.
Wood: Wood flooring has a classic look and feel, but can be expensive to purchase and lay. Moreover, wood can get scratched or dented and must be resurfaced periodically.
Tile: Tile floors give your kitchen a high-class look but can crack if you drop heavy objects on them.
Bamboo: Bamboo looks like wood flooring but is harder than wood. As a result, it is more durable. However, because of the hardness, bamboo can be difficult to lay because the bamboo planks have a tendency to crack and splinter when cut. Unless you are well-versed in how to treat a cut at home, leave bamboo flooring to the experts.
Walls
Wall coverings, like paint and wallpaper, are a quick and inexpensive American kitchen repair project. Kitchen walls suffer a lot of abuse. Heat, smoke, steam, water, and oil splatters can cause paint and wallpaper to peel, fade, and chip off.
Modern latex paint has an average lifespan of eight to 15 years, depending on use. Since the kitchen sees a lot of traffic and use, kitchen paint usually falls on the lower end of the expected lifespan.
Some tips for painting as part of an American kitchen repair project include:
Wash and sand the walls thoroughly: Kitchen walls can have a greasy residue. Washing will help the sandpaper grip the walls. After washing and sanding the walls, the walls will be in a condition for the paint to stick.
Patch the walls: If you noticed any nicks, scratches, or dents in the wall while you were washing and sanding them, patch them with a wall patching compound. Allow the compound to dry completely, then sand the patch.
Lay down plastic sheeting and tape the walls: Taping and tarps will keep paint where you want it, and protect cabinets, floors, and appliances from brush strokes and paint splatters.
Choose a good paint: Since kitchen paint must endure such harsh conditions, it pays to choose a high-quality paint. Many modern paints are engineered to dry quickly. If your kitchen is large, consider paint additives that slow the drying process so you have more time to work with the paint.
Allow the paint to dry: One of the most common mistakes when painting a room is to jump the gun, and start moving appliances back into the kitchen before the paint dries. Not only do you risk marring the paint, you will have paint spots to wash off your appliances.
Cabinets and Counter Tops
cabinets and countertops are usually the most expensive parts to an American kitchen repair and renovation project because cabinets and countertops must be customized to fit into your kitchen.
However, if they are well-cared for, kitchen cabinets and countertops can last for decades. In fact, natural stone countertop materials, like marble and granite, could last millions of years. Engineered quartz is made from ground quartz mineral held together with plastic resin. Since it usually contains over 90% stone, quartz can likewise last millions of years.
Kitchen cabinets can also be manufactured from a variety of materials including:
Natural wood: Natural wood has a rustic feel to it and is very durable. However, it must be maintained with wood oil because the humidity in a kitchen can cause it to crack and peel.
Medium density fiberboard (MDF): MDF is a composite material like particleboard, but it is held together with plastic resin instead of glue. As a result, it is more water-resistant than particleboard and lighter than plywood. However, it lacks the nice wood grain visible in natural wood.
Plywood: Plywood is made by gluing layers of wood together. As a result, it is very strong but still gives the appearance of natural wood grain. However, plywood is heavy and must be maintained with wood oil or treated with a coating to protect the plywood from de-laminating due to humidity.
Luxury Upgrades
While not necessary, your time at home during the pandemic may have triggered a few "I wish I had…" moments. For example, alcohol consumption increased during the pandemic and may lead some homeowners to put a home bar or wine cellar into their kitchens.
Similarly, a home ice maker can provide anywhere from a few pounds to 25 pounds of ice. This will allow you to have ice to supplement a bagged ice delivery for your end-of-coronavirus party.
Now is the perfect time to plan a kitchen repair or renovation project. You likely have a better feel for what can be improved or fixed after spending three months at home with few opportunities to eat out. Moreover, since your summer plans have likely changed, you probably have the money to spend on a kitchen remodeling project.
By identifying whether you are going to repair or replace appliances and how much of your kitchen will be renovated, you should be able to plan a kitchen that will last you for many years to come.
It's now popular for people to get custom outdoor kitchens. These kitchens give people the chance to eat and prepare food outside. Outdoor kitchens often have roofs, but otherwise, they'll be open. People will have the benefits of large indoor and outdoor spaces at the same time. Today, people's favorite kitchen designs might specifically include outdoor kitchen designs. They can buy fall kitchenware for their new outdoor kitchens.
Plenty of outdoor kitchens are luxurious. However, it's still possible to create outdoor kitchens that are simpler than that. Outdoor kitchens may not be practical in all areas. These kitchens are much more common in areas where the weather is warm nearly all year. Even in those situations, people might have to prepare for occasional cooler days. Still, this usually shouldn't present too many issues, especially when the outdoor kitchens are designed in a certain way.andnbsp;
Remodeling the entire kitchen certainly takes time, and so does building a new one. It's often difficult for people to even get started, even if they have an idea of what they want. Fortunately, it should be at least relatively easy to find a kitchen designer. All kitchens look at least slightly different, and this is certainly the case for outdoor kitchens as well.andnbsp;
Like this:
american project management, american issues project org, british american association, famous african american project, the us project, american project and repair, conservative program, link to hope criticism, presidential report card project, the word of art book, utopia the play, african american projects for elementary students, american project management llc, american repair, bap conference 2019, npr reincarnation, african american culture project ideas, bap america, david byrne npr, project all in, project principles.