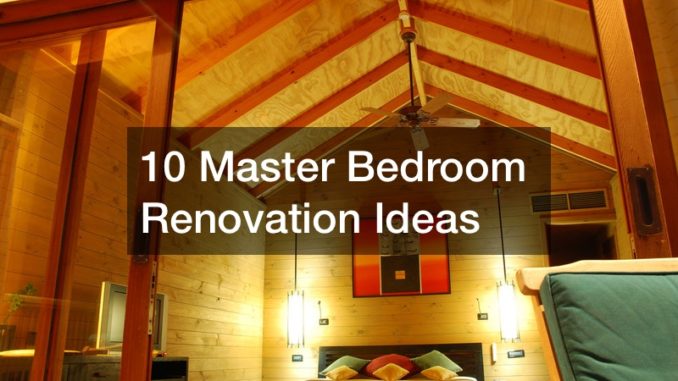 The master bedroom is the quintessential part of any home. It is where you go to relax, unwind after a long day, and ultimately, where you will spend a third of your life sleeping! If you have a master bedroom that is uncomfortable, why not modify it using some master bedroom renovation ideas? Master bedrooms are a big part of any home, and most homeowners will only want to buy a home with an adequate master bedroom. Below are some of the best master bedroom renovation ideas to help you get the most out of this living space and make your home more valuable.
1. Update Your Closet Space
There are many ways you can update your closet to make it fit for a king (or queen)! Start off by contacting a custom closet design company to help you with your renovations. A closet design company will be able to help you update the look of your closet in several ways. One of the best ways is to add lots of shelving and storage to your closet.
Shelving will allow you to easily organize all of your favorite shoes, outfits, and accessories. Additional shelving can also be aesthetically appealing. Don't add shelving with unsightly metal wiring, and instead use shelving made out of wood or other gorgeous materials. In addition to shelving, it's also a good idea to re-inforce or replace any hanging rods that appear to be sagging. This is a sign that they will eventually fall and lead to a mess in your closet.
Once you replace your closet rod, you can then replace your hangers as well. Instead of having mismatching hangers, invest in new hangers to help you store all of your suits and outfits appropriately. Looking to maximize your closet space? One of the best master bedroom renovation ideas is to also install drawers into your closet. Depending on how big your closet is, this is doable and the outcome can be an incredibly beautiful, luxurious master closet! Have a smaller closet? Consider installing hanging closet rod organizers. You can also invest in vacuum-sealed bags to store clothes such as winter gear until the time is right.
2. Update Your Window Blinds
Window blinds are some of the best investments for your master bedroom. Unlike regular curtains, window blinds can let in light while also giving you a bit of privacy. Window blinds are a great investment if you want to make your master bedroom stand out and appear more modern.
Blind companies even have technologically-advanced window blinds that you can use. These include window blinds that are remote-operated, such as roller blinds. With the touch of a button, you don't even have to get out of bed to open or shut your window. What a luxury for the master bedroom! This is just one of the many master bedroom renovation ideas to make your life easier and make your home more appealing to customers.
Window blinds can also save you money since they can allow your home to remain cool during hot summer months. Invest in window blinds to keep the heat out and upgrade those curtains in your room. If you still like the look of curtains in your bedroom, you can always install window blinds and slide the curtains over them.
3. Update Your Home's HVAC System
It's important to keep your home cool during the summer and warm during the winter. This is especially true in the master bedroom, as it can be difficult to get a good night's sleep when the temperature is either too hot or too cold. If you want to update your home's HVAC system, it's best to get the help of heating and air conditioning companies to help you.
If you notice your room takes too long to heat up, or is also way too hot during the summer months, this could be a sign that you're in need of heating or AC repair contractors. These professionals will be able to keep your home at a comfortable temperature, making sure you get a good night's sleep. Perhaps one of the best master bedroom renovation ideas that can also improve the entire home is to update your HVAC system.
HVAC system updates are also crucial if you have central AC and heating. Don't have central ac or heating yet? Consider making the upgrade and installing a thermostat to control the temperature of your home with the push of a button!
4. Install A New Bathroom Vanity
One of the best parts of the master bedroom is, of course, the master bath! If you have to get ready in the morning, consider how much of a difference a bathroom upgrade would be. One of the best master bedroom renovation ideas is to renovate your bathroom. An easy, and valuable, way to installing upgrade the look of the entire bathroom is to install a new bathroom vanity.
If the master bedroom is shared by you and your partner, consider dual vanities to make getting ready in the morning easier. Dual vanities also allow you to have your own space for his and hers accessories. A plumbing contractor will be able to help you install any new bathroom vanity you find. Shop around at your local hardware store or reach out to a designer for help choosing the right vanity for your bathroom.
Some of the hottest trends right now are bathroom vanities with farmhouse-style sinks, matte black fixtures, shaker-style cabinets, and water-saving technology. Whatever bathroom vanity you choose, make sure it matches the rest of the style of your home and bathroom as well.
5. Fix Any Plumbing Issues
Bathroom renovations can also be small, yet improve your quality of life and the time you spend in your home! Some of the best master bedroom renovation ideas focus on making small, yet powerful changes. If you already love the look of your bathroom, try doing simple renovations such as fixing any plumbing issues or leaks.
If you notice your sink is constantly clogging or your toilet fails to flush adequately, sometimes this can be repaired with a simple phone call to a drain services company. Sometimes you'll need to have more specialized services to update your bathroom and fix leaks. For instance, if you notice your toilet is leaking water from the bottom, this is usually a sign of an old toilet that must be replaced.
If you want to replace your toilet or even your bathtub, it's best to get the help of septic tank services for help. They will ensure any waste is properly routed to the right area. This is especially important if you have your own large property and have a septic tank in your own backyard. When doing master bedroom renovation ideas, remember to handle all of these updates as well! Although fixing plumbing issues and leaks won't necessarily make your bathroom look more aesthetically pleasing, they will save you tons of money on repairs in the long run!
6. Install Air Conditioning
If you have a smaller home or apartment, there's no reason you can't enjoy cool air during the summer months! Stand-alone air conditioners are a great addition to any room, and are one of the best master bedroom renovation ideas. Sleek air-conditioning units are available to help you cool off and keep smaller master bedrooms from overheating.
You can also get the help of AC installation services to help you install an AC unit into your window. If you already have an AC unit in your home, why not get the help of 24 hour AC repairs to fix your unit? If you hear strange noises coming from your unit, notice it isn't cooling your home properly, or even notice a burning smell coming from your unit, it's best to get it repaired as soon as possible.
7. Update Your Flooring
Did you know that most homebuyers now prefer investing in a home with wood or vinyl floors? It's true! However, carpet bedrooms are also a great options, especially if you want to keep your feet warm during the cooler months. Whichever type of flooring you have, make sure it is updated and you are comfortable with the way it looks and feels!
For carpet bedrooms, tear out any old and stained carpet that is unsightly, and replace it with plush wall-to-wall carpeting. Keep in mind that lighter-colored carpet can be beautiful, but it is difficult to maintain clean. Add some carpet stain-protection to help you keep your master bedroom looking spotless.
For some other master bedroom renovation ideas, consider replacing your existing carpet with vinyl or hardwood flooring. Hardwood flooring is unique as every single plank will have its own unique grain and coloring. On the other hand, vinyl flooring is also a great option since it will not warm during hotter or colder months like traditional wood flooring will.
Whether you invest in updated carpet or wood flooring, make sure to routinely clean your floors to ensure your floors remain looking stunning.
8. Add An Accent Wall
Accent walls are all the rage right now, and for good reason! If you don't want to paint your entire master bedroom, one of the best master bedroom renovation ideas is to add an accent wall to your room. An accent wall is usually placed behind the bedboard of your master bed.
Accent walls are easily to accomplish using a simple can of paint, simple style designs, and even accents such as glitter. You can sand down and paint your existing wall, or get the help of professional painters, although this isn't exactly necessary. Want to add patterns to your wall? With the help of some painters tape and contrasting paint colors, you can make stunning geometric designs to wow any visitors! Add some shelving to your wall for some added storage space and as an extra design element.
Floating shelves are a great addition to any accent wall. Use them to display your trophies, certificates, or keep indoor plants. The choices and possibilities are endless! Whatever color you decide to choose for your accent wall, make sure to match its style with the rest of your bedroom furniture or through accent rugs as well. This will help you tie the master bedroom together effortlessly.
9. Install A Wall Mounted TV
Nothing says relaxation like putting on your favorite show, sitting back, and enjoying some laughs with the family. To help you enjoy your favorite show while you're laying in bed, consider installing a wall-mounted TV to your bedroom! Wall-mounted televisions are a great selling-point to any home. This is one of the easiest master bedroom renovation ideas. Most televisions now come equipped with all-mounting capabilities. If you need help, there are plenty of electrical services that will help set up your TV wall mount at very little cost.
If you don't want to add a wall-mount, consider placing your television on top of a combined dresser/TV stand. You can find some excellent choices online or at your local hardware store. You can even combine an electrical fire place with your TV stand for some added comfort and relaxation.
10. Update Master Bedroom Windows
Finally, one of the best master bedroom renovation ideas is to update your master bedroom windows. Newer windows with low-e glass can help you save money by keeping your room cool during the summer and warm during the winter!
It's important to replace your windows if you notice they're difficult to open or close, have cracks, and are older than 10 years. Replacing your windows can be one of the easiest ways to instantly transform your bedroom.
With these master bedroom renovation ideas above, you can update your bedroom and create a stunning living space for you and your loved ones! Make the most of your master bedroom with these tips above.